EESI's EarthTalks Seminar Series: Exploring Critical Environmental Issues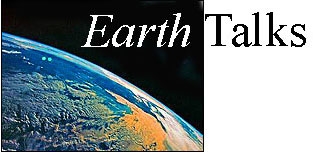 EarthTalks is EESI's semester-long interdisciplinary seminar series that seeks to engage the University and broader community in examination of some of the complex environmental challenges facing our world today.
The weekly talks feature distinguished researchers and practitioners from Penn State as well as from other universities, government agencies and nonprofit organizations. Seminars are presented to both a live and online audience as well as archived with access through the EESI website.
Recent EarthTalks series have been focused on the critical problems of climate change, protecting the planet's water resources and the environmental, technical, and social challenges presented by the development of the Marcellus Shale natural gas resource.
EESI Faculty associates are encouraged to propose seminar topics of strategic interest to EESI to the EESI Director. EESI affiliates may also propose topics as appropriate. Faculty who propose topics are expected to develop the series in collaboration with a committee. The committee should include at least one member from an EMS Department other than the faculty-proposer and at least one member from a department in another college.
EESI provides $5,000 in funding for EarthTalks as well as staff support to help with speakers' travel arrangements and campus schedules. Faculty are encouraged to leverage this support with funds from other units.
The Dynamics of Deep Decarbonization
Organizers: Seth Blumsack and Klaus Keller
Co-Supported by: EESI, PESTL, CLIMA
Achieving truly deep decarbonization is a uniquely difficult problem requiring fundamental changes in multiple interconnected systems (energy, agriculture, industry). Decisions made with the intent of avoiding the most severe climate change climatic impacts happen in the face of deep and dynamic uncertainties. Deep decarbonization decisions may also create multiple winners and losers and is thus a problem of managing social change in addition to technology transition. This EarthTalks series will invite prominent researchers to give talks on energy systems transition, negative carbon emissions, terrestrial sequestration, decision-making under uncertainty, and public policy relevant to deep decarbonization.