EESI's EarthTalks Seminar Series: Exploring Critical Environmental Issues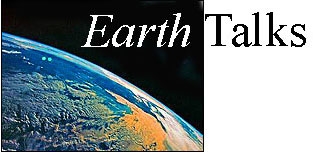 EarthTalks is EESI's semester-long interdisciplinary seminar series that seeks to engage the University and broader community in examination of some of the complex environmental challenges facing our world today.
The weekly talks feature distinguished researchers and practitioners from Penn State as well as from other universities, government agencies and nonprofit organizations. Seminars are presented to both a live and online audience as well as archived with access through the EESI website.
Recent EarthTalks series have been focused on the critical problems of climate change, protecting the planet's water resources and the environmental, technical, and social challenges presented by the development of the Marcellus Shale natural gas resource.
EESI Faculty associates are encouraged to propose seminar topics of strategic interest to EESI to the EESI Director. EESI affiliates may also propose topics as appropriate. Faculty who propose topics are expected to develop the series in collaboration with a committee. The committee should include at least one member from an EMS Department other than the faculty-proposer and at least one member from a department in another college.
EESI provides $5,000 in funding for EarthTalks as well as staff support to help with speakers' travel arrangements and campus schedules. Faculty are encouraged to leverage this support with funds from other units.
Societal Problems, EESI Science towards Solutions
Organizers: Susan Brantley
Co-Supported by: EESI
As society faces increasingly complex problems related to impacts of a growing human population on our finite planet, scientists study both the underlying natural systems and how humans change them. This effort requires grappling with fundamental science issues while applying new knowledge to decision-making. Toward this end, EESI scientists lead student-led research to understand our changing global environment and how we change it. This semester's seminar series, "Societal Problems, EESI Science towards Solutions," presents EESI associates and their latest thoughts on some of society's biggest environmental issues, from climate to energy to limits on natural resources.