Overview
Faculty-driven and directed, EESI centers are leaders in interdisciplinary, collaborative, and innovative research in the ever-changing environmental sciences. Researchers involved with the centers are engaged in understanding the earth system, how it affects people and how people affect it.
EESI centers and initiatives promote, conduct and coordinate interdisciplinary research and educational activities within environmental sciences/engineering/social sciences. Centers or initiatives are selected in a competitive process that occurs every three years. Centers receive funding awards from EESI from $5,000 to $15,000 per year for their activities.
The last call for center proposals before 2020 occurred in Spring 2017. EESI runs this competition every three years to publicly discuss newly proposed centers and proposals for renewal of centers. If EESI likes a proposal for a new center, the team can become an "Initiative" and can work toward becoming a Center officially through Penn State OVPR. The 2020 call for proposals is here. The review committee met in May 2020. Proposals that were submitted are here.
Penn State University Guidelines for Research Institutes and Centers.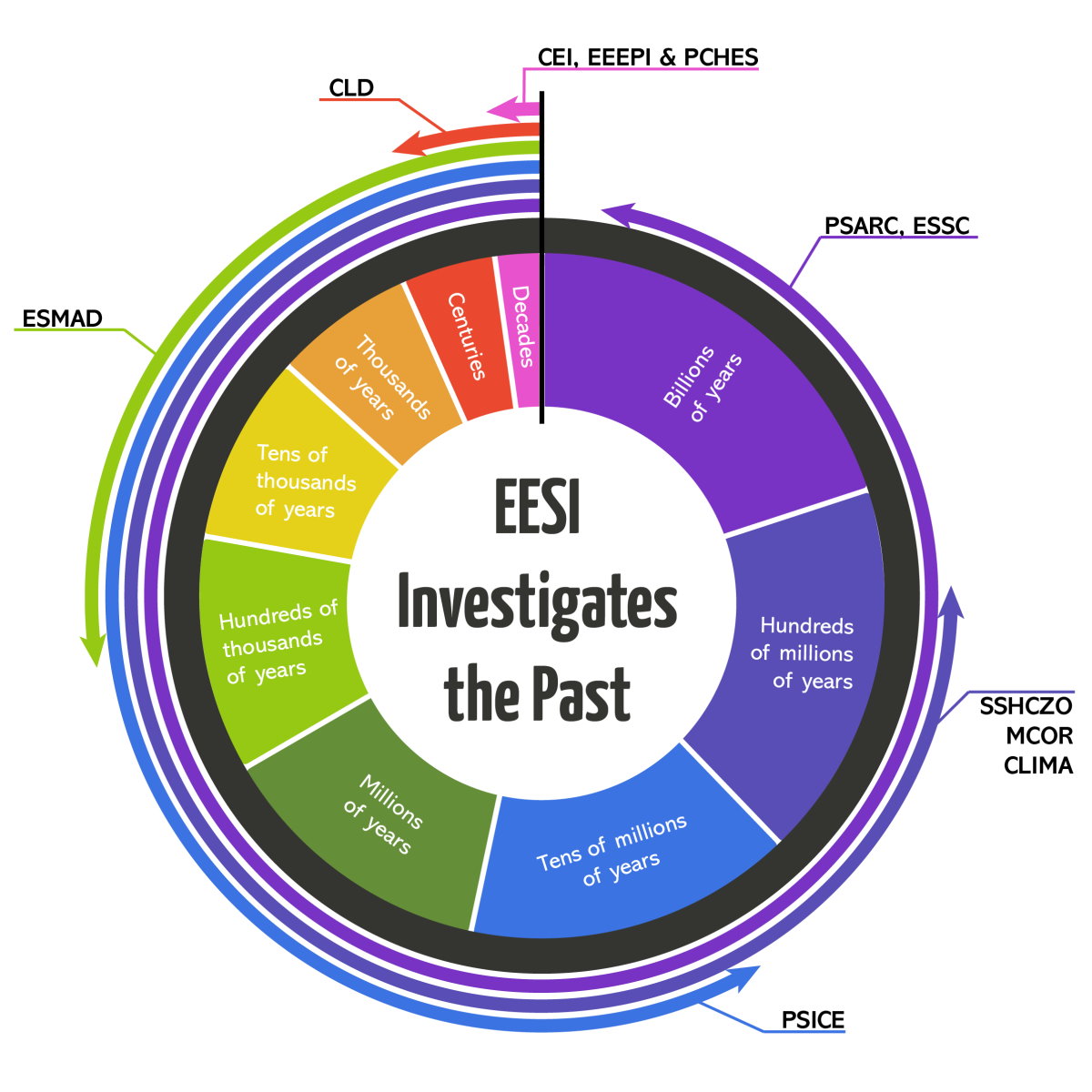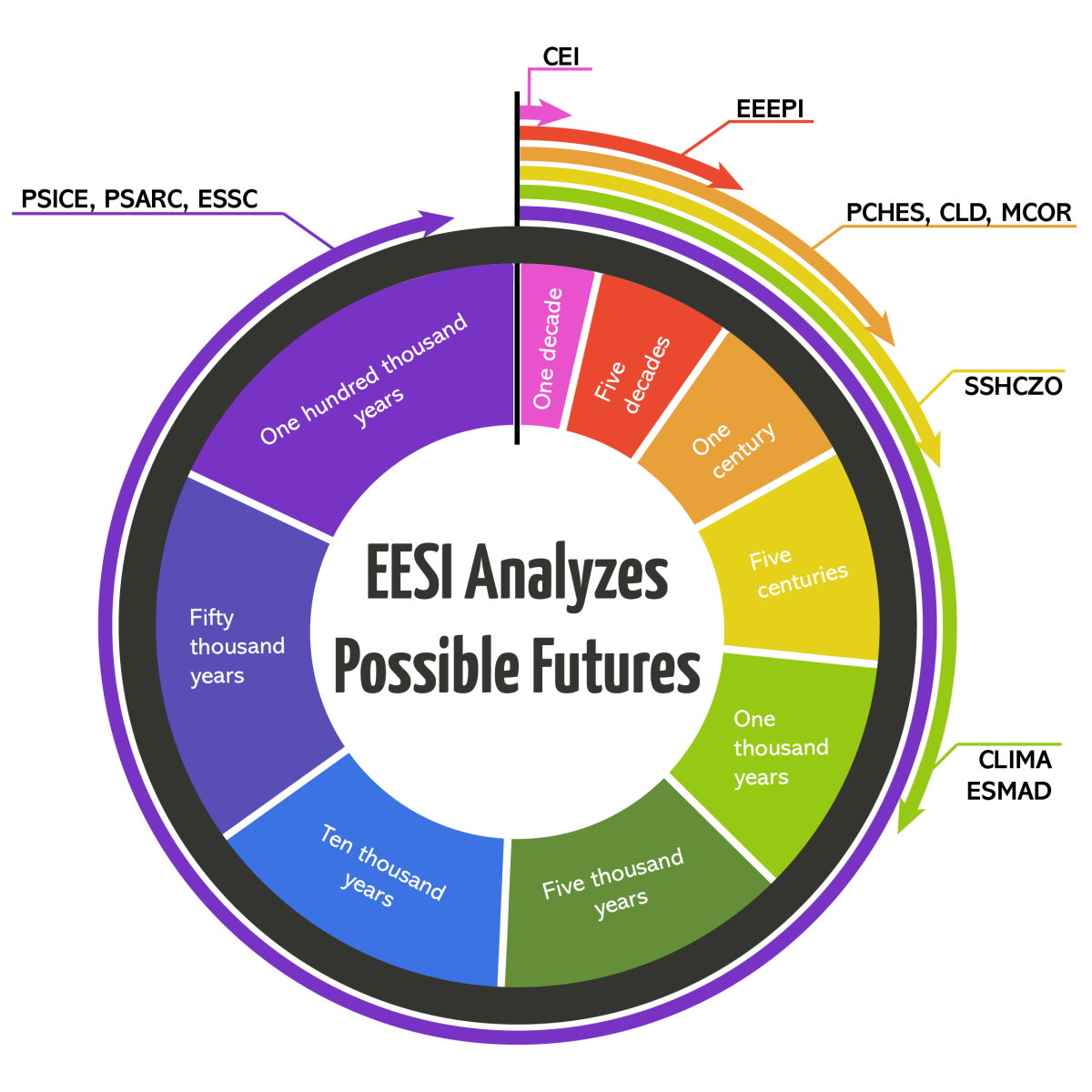 Research Centers and Initiatives Supported by EESI
The Alliance for Education, Science, Engineering, and Design with Africa aims to bring communities together, inspire youth, and design solutions for an inclusive future.
The Center for Climate Risk Management catalyzes convergent research to inform climate risk management.
CEI focuses on the development of new and innovative approaches to the creation and dissemination of environmental information resources.
CLD is the "go-to" center for landscape science and decision making.

Center for Earth System Modeling, Analysis, and Data (ES-MAD)

The Center for Earth System Modeling, Analysis and Data builds bridges between the climate science community and the broader research community.
ESSC maintains a mission to describe, model, and understand the Earth's climate system.
EEEPI supports and promotes integrative research at the boundary of economics, public policy, and engineered/environmental systems.
The Marcellus Center for Outreach and Research will be the research, information, and education leader for the Appalachian region by fostering, supporting, and advancing research and research-based outreach on shale gas development.
The Planetary System Science Center formerly known as Penn State Astrobiology Research Center (PSARC) fosters NASA-relevant research across Penn State, enabling effective collaboration related to the origin of life, life detection, life in extreme environments, and planetary science.
The Center for Penn State Ice and Climate Research integrates glaciology, seismology, modeling and climatology.
Federally Funded Initiatives
EESI Facilities
Supported by Institutes of Energy and the Environment (IEE) and Earth and Environmental Systems Institute (EESI), this laboratory supports faculty and student research and has the following shared equipment: Inductively Coupled Plasma - Atomic Emission Spectrometry (ICP-AES, also referred to as OES for Optical Emission Spectrometry); Inductively Coupled Plasma - Mass Spectrometry (ICP-MS); Multiple Collector Inductively - Coupled Mass Spectrometry (MC-ICP-MS); Elemental Analyzer - Isotope Ratio Mass Spectrometer (EA-IRMS); and Gas Chromatograph (GC-FID).
Community Initiatives
CCPaSEC is a watershed monitoring group staffed by senior citizens who sample and publish data on the water quality of streams in Centre County. The Laboratory for Isotopes and Metals in the Environment analyzes monthly water samples for pH and a suite of cations and anions and then reports the results to the group, which makes them available online. CCPaSEC is part of the ClearWater Conservancy and works with the Pennsylvania Department of Environmental Protection, Centre County Conservation District, and the Retired and Senior Volunteer Program of Centre County, as well as other environmental groups. Researchers from EESI and Mohamed Khalequzzaman, professor of geology, Lock Haven University, advise the group.
Funding Awards (Archive)