Nooreen Meghani
October 2015
Nooreen Meghani is on the hunt for orphaned and abandoned wells.
She got off to a good start on a recent trip to the Allegheny National Forest, finding a well long forgotten in the dark woods.
"It's was like a treasure hunt," she said.
That's one down – a couple hundred thousand to go. There are an estimated 200,000 of these oil and gas wells scattered across Pennsylvania.
Finding them is a big job, and that's why Meghani is turning to citizen scientists for some help. She is leading the charge to recruit volunteers who can be trained to research where wells might be, find them and monitor for potential environmental impacts.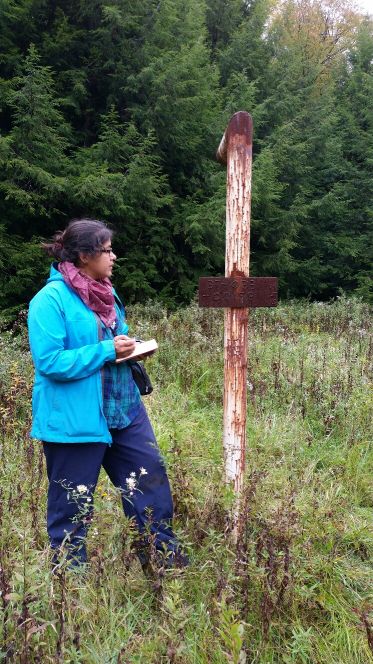 An estimated 325,000 wells have been drilled in Pennsylvania since 1859, when an oil boom began in the western part of the state. Almost 100 years elapsed before regulations in 1956 required wells to be documented, and the state only has record of about 125,000.
With no records, it's difficult to find the remaining wells and to assess what kind of condition they are in. If damaged or not properly sealed, these wells pose environmental risks, both from greenhouse gases like methane that can escape into the atmosphere and from oil or gas that could affect freshwater aquifers.
"On one hand, you are excited to look for these things," Meghani said. "Then you stop and think about what it is you're finding. One of the wells we found was shattered and there was just a piece of concrete sticking out of the ground. It's a little disturbing."
Penn State is offering new tools to aid in the search - a forum to bring community members together and a website that can be used to document found wells and track data like well integrity at the surface. The information can be used to inform state Department of Environmental Protection monitoring and future plugging operations.
If you are interested in volunteering, or finding out more about orphaned and abandoned wells, contact Nooreen Meghani at nam243@psu.edu.